With the start of the newest Season of DFWLARP, one of the things I wanted to focus on was to increase our online social connections. I believe that, by doing this, we can help increase interest and activity between games, and potentially draw in more players.
As you have probably seen, Debi has been working diligently to upgrade our forum site and establish connectivity between that site and many of the more commonly used social media sites. As part of this effort, we will be awarding bonus points for our newest DFWLARP season based on your interactions with the forum site.
Many of you have already previously signed onto the forums (http://dfwlarp.com/forum/). However, with the recent changes to the site, we are asking all players to fill in the new additional information fields related to your persona. This will help new players know who the individuals are behind the characters.

In order to update your profile, go to the Profile Page (http://dfwlarp.com/forum/ucp.php?i=ucp_profile&mode=profile_info). From there, you will see all the additional fields that have been added into the site. Of particular note, we have added the Player Name field, and the Pronoun fields. We'd like for everyone to take advantage of these fields, in order to help acclimate the people using the site with the individuals they are interacting with. In addition, you will also find references to some of the more common social sites (Facebook, Instagram, Twitter). Adding these fields will allow people to find and connect with you outside of the DFWLARP site. Once you have added the additional information, be sure to click the "Submit" button.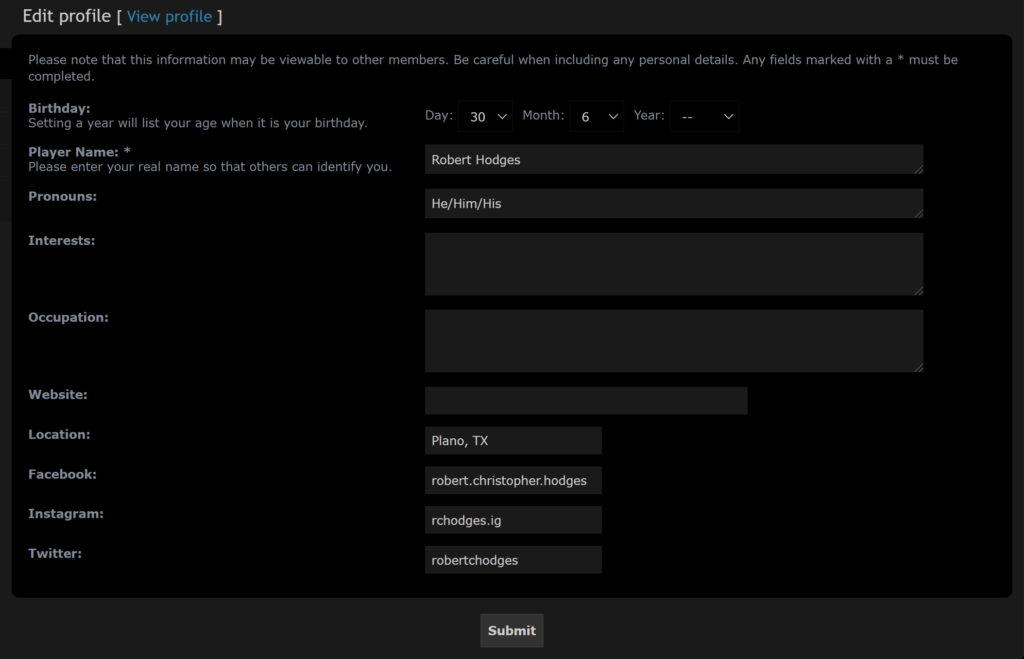 Completion of this profile section will award your character 10 experience points, which are not part of the standard monthly limit.

Additionally, we would like everyone to take pictures of yourself in costume (current or previous), and post them on your Instagram account (must be a public account to show up in the feed) with the hashtag #DFWLarp. This will allow our "People of DFWLarp" page (http://dfwlarp.com/people-of-dfwlarp/) to locate those pictures online, and add that to the page. Each unique picture posted to your account will award your character 2 experience points (up to a maximum of 10), which are not part of the standard monthly limit.

We're very excited about the upcoming Season of DFWLarp, and we hope to bring in more features to help you get connected to both the game as well as the players in it. Looking forward to seeing you all soon!